BCG is a Thought Leader in the PRT Industry
The Case for Pension Risk Transfer
As US corporate plan sponsors continue to find less appeal and more challenges with their defined benefit plans, they will explore more ways to reduce or eliminate the DB plan risks they hold. And as they find the barriers to transaction dropping, the upshot will be a huge increase in PRT deals.
The Fiduciary's Role in the Termination of Single Employer Defined Benefit Plans: A Practical Guide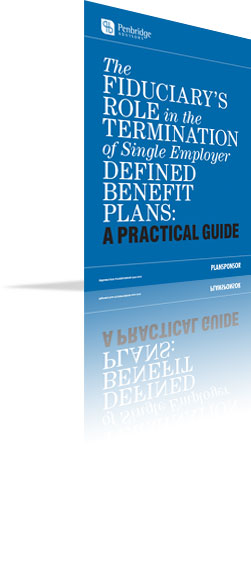 While de-risking of defined benefit plans takes many forms, the most comprehensive set of actions involves termination of the plan and transfer of its liabilities to an insurer by purchase of an annuity buyout contract. This article by Ivins, Phillips & Barker and Penbridge Advisors sets forth in Part I a checklist of plan sponsor and fiduciary actions. Part II expands on the fiduciary's risks and responsibilities in bringing the termination to a close.
Defined Benefit Expense Survey and DB Expense Benchmarks Reports
Summary results of the first industrywide survey to capture all the costs associated with maintaining a U.S. corporate defined benefit (DB) plan. The survey is intended to give plan sponsors access to unbiased and comparable expense data to help them make informed decisions involving the costs of their DB plans. Set up as a rolling survey, participating sponsors receive, at no charge, a customized DB Expense Benchmarks Report. To view a sample Benchmarks Report, click here. To participate in the survey, click here.
Preparing Assets for Pension Risk Transfer
Plan sponsors preparing for PRT transactions need to position their assets to go through the process efficiently and with minimal asset liability management risk and cost. The first half of this paper presents the essentials of asset positioning for plans that are preparing for termination. The second half examines the growing practice of assets-in-kind transfers, drawing upon the results of a Penbridge survey of US insurers.
Survey of Assets In Kind Practices of PRT Providers
Summary results and key observations from Penbridge's 2016 survey addressing insurers' assets-in-kind (AIK) transfer practices. 100% of insurers responded to the request to participate. It is important for plan sponsors and their advisors to understand the practices of insurers related to AIK transfer arrangements for annuity buyouts so that they can prepare the asset portfolio and carry out the transaction with optimal efficiency.
"Check, Please!": The Importance of Administration in the Selection of an Annuity Provider
This white paper provides a comprehensive framework for how fiduciaries should examine administrative considerations in the Information Age. It explains why a review of insurers' administrative capabilities and practices is crucial for a fiduciary selecting an annuity provider, how technological changes (e.g., cybersecurity threats) have made it even more critical, and what key aspects of insurers' administration a fiduciary should focus on.